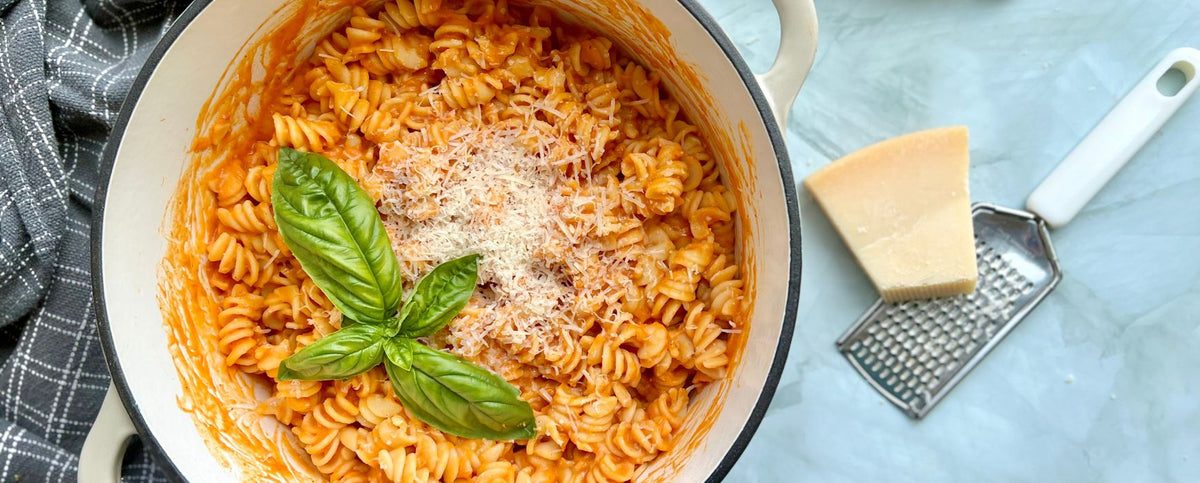 Butternut Squash Pasta Recipe
You won't be able to get enough of this recipe once you learn just how easy it is to make! Just bake, blend and pour. The most you'll have to do is chop a few vegetables, but after that, this Butternut Squash Pasta recipe is truly a breeze. 
Make every recipe taste even better by simply swapping out your old pots for the 5.7 Qt Dutch Oven from our Enameled Cast Iron Cookware Collection. You'll be able to see the quality once you get your hands on your own piece. Their heavyweight shows just how durable they are, plus their long-lasting lifespan. When taken care of properly, your cookware can last for generations. Now you, your kids, and your grandchildren will all be able to enjoy flavorful family recipes made in a family heirloom.
Recipe Ingredients
16 oz cubed butternut squash, fresh or frozen

1 ½ cups fresh chopped tomatoes

½ yellow onion, chopped

2 tablespoons olive oil

1 teaspoon salt
¼ teaspoon ground black pepper

½ teaspoon dried thyme

16 oz pasta

⅓ cup pasta water, reserved

Parmesan cheese, garnish
Recipe Directions
Preheat the oven to 450ºF.
Line a baking sheet with parchment paper and add butternut squash, tomatoes, and onion. Drizzle olive oil and season with salt, pepper, and thyme. Mix to evenly coat everything. Bake for 20 minutes.
While the veggies bake in the oven, cook the pasta according to package instructions in your Dutch Oven. Before you drain the cooked pasta reserve ⅓ cup of the pasta water.
Once the veggies are done, add to a blender with the pasta water and pulse until smooth. Pour the sauce over the cooked pasta and toss to coat.
Garnish with parmesan cheese and serve!
Find more recipe inspiration and shop our kitchen cookware essentials below.