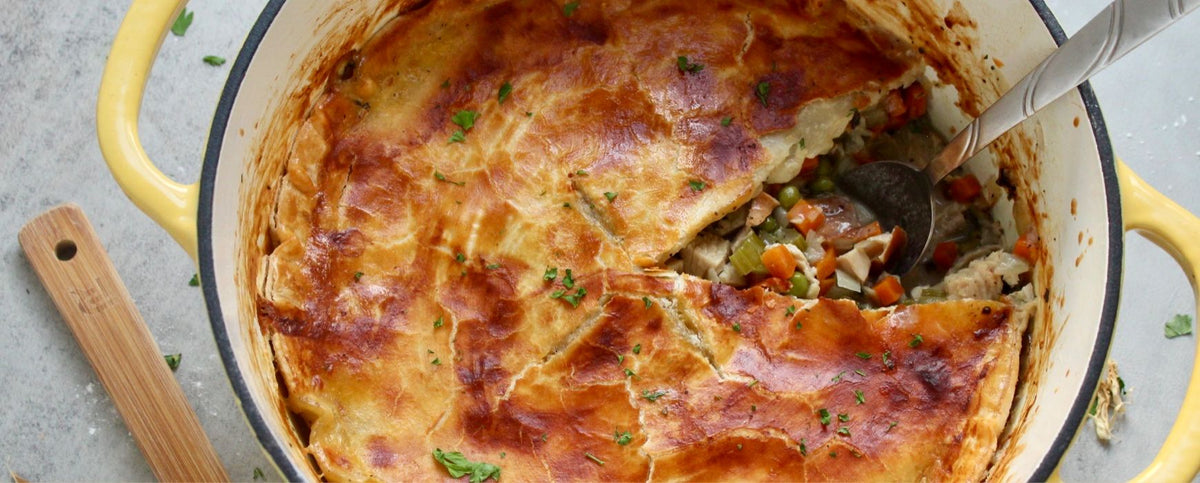 Dutch Oven Turkey Pot Pie Recipe
Re-invent your Thanksgiving leftovers into this delicious Dutch Oven Turkey Pot Pie created by the talented Franchesca Livraghi of Break Thru Kitchen. Easily customize this recipe depending on your leftovers and you can call it a Thanksgiving Pot Pie. 
This one pot recipe can even be enjoyed on Thanksgiving rather than leftover style and served with mashed potatoes for the ultimate Thanksgiving Dinner.
Make every recipe taste even better by simply swapping out your old cookware for any piece from our Enameled Cast Iron Cookware Collection. You'll be able to see the quality once you get your hands on your own piece. Their heavyweight shows just how durable they are, plus their long-lasting lifespan. When taken care of properly, your cookware can last for generations. Now you, your kids, and your grandchildren will all be able to enjoy flavorful family recipes made in a family heirloom.
Recipe Ingredients
¼ cup butter

1½ cup diced celery

1½ cup diced carrots

1 cup diced yellow onion

4 cloves garlic, minced

2 teaspoons salt

1 teaspoon ground black pepper

1 teaspoon dried thyme

½ teaspoon dried rosemary

½ teaspoon dried sage
¼ cup all-purpose flour

2½ cups chicken broth

1 cup whole milk

¼ cup heavy cream

3 tablespoons fresh parsley, finely chopped + extra for garnish

3 cups cooked turkey, diced or shredded

1 cup frozen peas

1 puff pastry sheet

1 egg
Recipe Directions
Preheat your oven to 375ºF.

In your Larder & Vine Dutch oven over medium heat, melt the butter. Add celery, carrots, onion, and garlic. Cook until the vegetables are softened, approximately 5 minutes.

Sprinkle in salt, black pepper, thyme, rosemary, sage, and flour. Mix until the flour is fully absorbed.
 
Pour in chicken broth, milk, and cream. Stir and let it simmer until the mixture thickens, about 10 minutes.

Add parsley, turkey, and peas. Mix well, and then remove from heat. Allow the filling to cool for about 20 minutes.
 
Place a pastry sheet on top of the pot pie filling, ensuring it's slightly larger than the Dutch oven. Crinkle the sides of the pastry sheet around the edges to seal, and create a steam vent by slicing a cross on the middle of the pastry sheet.
 
Whisk an egg to create an egg wash and brush it onto the pastry.
 
Bake the pot pie uncovered for 35 minutes, or until the crust is golden brown.
 
Remove from the oven and let the pot pie rest for 20 minutes before serving. Garnish with parsley and enjoy your delicious homemade pot pie!