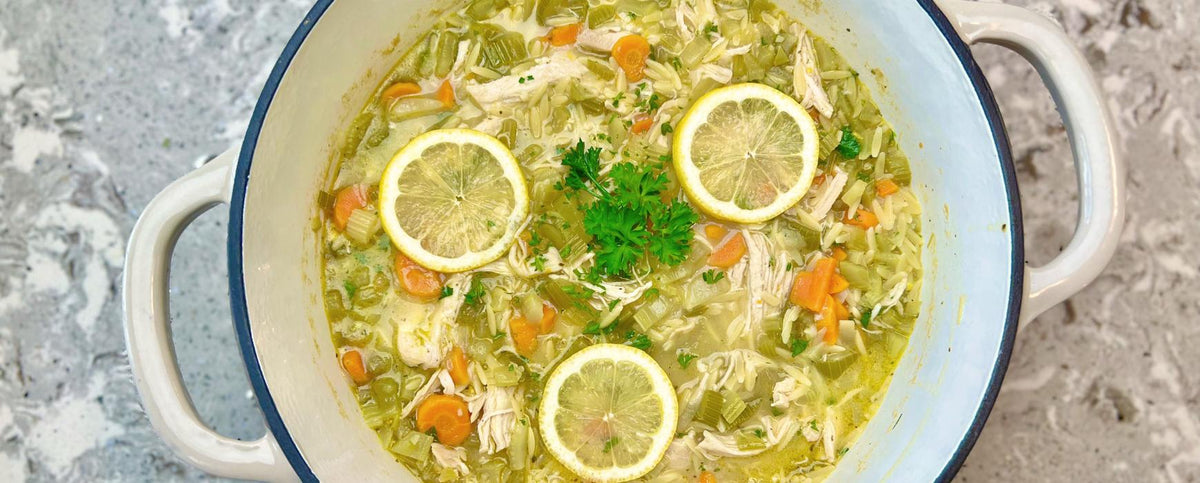 Lemon Chicken Orzo Soup Recipe
A twist on the classic chicken noodle soup for when you're under the weather or craving a warm bowl of this classic comfort recipe. Say hello to this Dutch Oven Lemon Chicken Orzo Soup recipe. All you need is your handy Larder & Vine Dutch oven and the ingredients below.  
Make every recipe taste even better by simply swapping out your old cookware for any piece from our Enameled Cast Iron Cookware Collection. You'll be able to see the quality once you get your hands on your own piece. Their heavyweight shows just how durable they are, plus their long-lasting lifespan. When taken care of properly, your cookware can last for generations. Now you, your kids, and your grandchildren will all be able to enjoy flavorful family recipes made in a family heirloom.
Recipe Ingredients
1 celery stalk, diced

2 medium carrots, peeled and diced

½  medium onion, diced

1 tablespoon butter

1 tablespoon olive oil

3 cloves garlic, minced

2 tablespoons all-purpose flour
6 cups chicken broth

¼ teaspoon Italian seasoning

1 ½ lbs chicken breasts

1 cup uncooked orzo

1 tablespoon lemon juice

1 tablespoon parsley, chopped

Salt and pepper to taste
Recipe Directions
In a Dutch Oven, heat the butter and olive oil over medium-high heat. Add in the celery, carrots, and onions, then sauté for 5 to 7 minutes.
Stir in the garlic and cook for about 30 seconds, then add the flour and cook for another minute.
Pour in the chicken broth and stir until the flour has dissolved, then add the Italian seasoning and chicken breasts. Bring to a boil.
Cover the soup slightly, leaving some room for steam to escape. Reduce the heat and simmer for 15 minutes.
Remove the lid, add orzo, stir and cook for another 10 minutes or until the orzo is cooked through. Stir occasionally.
Remove chicken from Dutch oven and shred, then add back to Dutch oven. Add lemon juice, parsley, and season the soup with salt & pepper as needed. Serve immediately.
Find more recipe inspiration and shop our kitchen cookware essentials below.