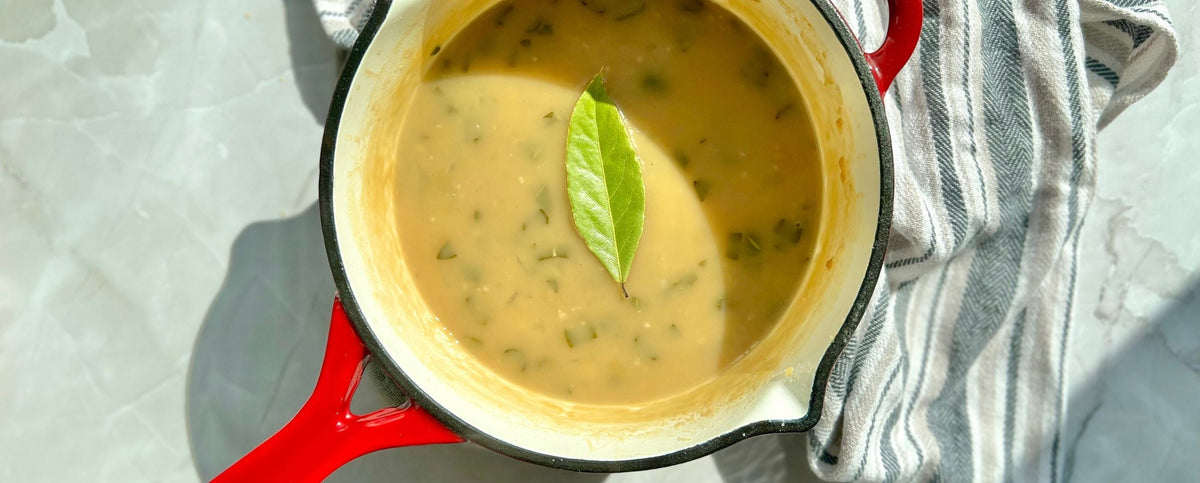 Cider & Sage Gravy Recipe
Homemade gravy is surely one of the easiest ways to take your Thanksgiving dinner to the next level. Made with apple cider and fresh sage, this Cider & Sage Gravy recipe will be a hit at all your gatherings this Fall. Serve over mashed potatoes, turkey, or any dish you desire for that little bit of extra flavor.
Make every recipe taste even better by simply swapping out your old cookware for any piece from our Enameled Cast Iron Cookware Collection. You'll be able to see the quality once you get your hands on your own piece. Their heavyweight shows just how durable they are, plus their long-lasting lifespan. When taken care of properly, your cookware can last for generations. Now you, your kids, and your grandchildren will all be able to enjoy flavorful family recipes made in a family heirloom.
Recipe Ingredients
4 tablespoons unsalted butter, divided

1 ½ cups finely diced onion

1 clove garlic, minced

⅓ cup all-purpose flour

1 cup apple cider
1 teaspoon Worcestershire sauce

Salt & pepper to taste

3 cups chicken stock

¼ cup chopped fresh sage
Recipe Directions
In your Larder & Vine Saucepan over medium-low heat, add 1 tablespoon of butter and sauté the onions for about 20 minutes or until golden and soft.
Add the garlic and sauté for another minute.
Add the remaining 3 tablespoons of butter and slowly add flour while stirring to create the roux. Continue cooking and stirring for about 10 minutes until brown, but not burnt.
Gradually add the apple cider, Worcestershire sauce, salt, chicken stock, and sage while stirring until smooth.
Bring gravy to a simmer and let it cook for about 10 minutes, or until thickened. Now the gravy is ready to serve, or you can strain the mixture for a super smooth gravy.
Find more recipe inspiration and shop our kitchen cookware essentials below.