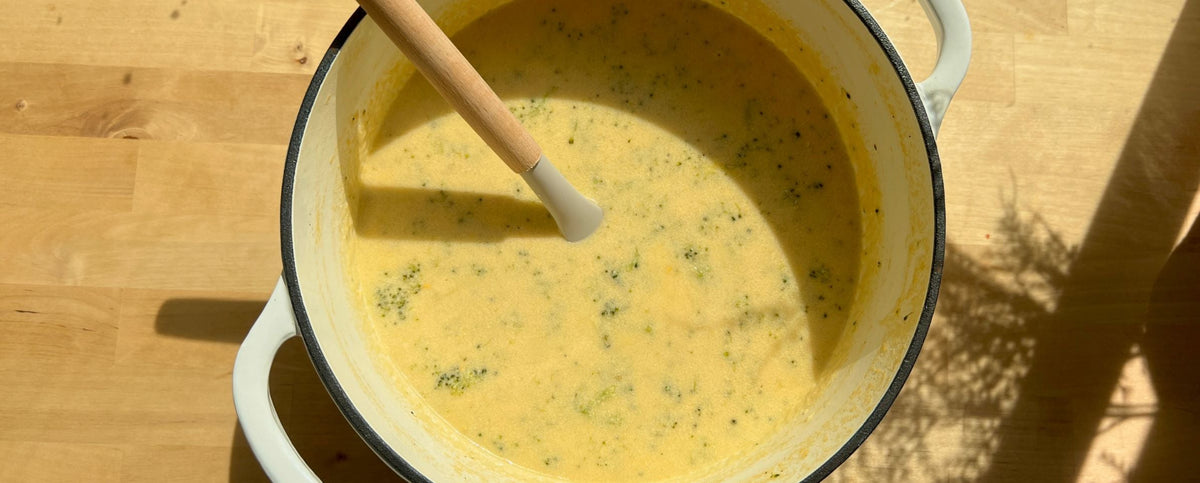 Broccoli Cheese Soup Recipe
Once the cool weather begins, so does soup season. We couldn't think of a better recipe to kickoff this season than our Broccoli Cheese Soup recipe.  It's a classic all on it's own and deserves to be the spotlight for at least a little while. 
Elevate this simple recipe by serving each bowl with a slice of fresh bread for dipping. Or an even better idea could be to turn this recipe into a bread bowl! This is our favorite way since it means less dishes to wash after dinner.
Make every recipe taste even better by simply swapping out your old cookware for any piece from our Enameled Cast Iron Cookware Collection. You'll be able to see the quality once you get your hands on your own piece. Their heavyweight shows just how durable they are, plus their long-lasting lifespan. When taken care of properly, your cookware can last for generations. Now you, your kids, and your grandchildren will all be able to enjoy flavorful family recipes made in a family heirloom.
Recipe Ingredients
¼ cup butter

¼ cup all-purpose flour

3 cups chicken or vegetable stock

3 cups milk
⅓ teaspoon salt

½ teaspoon pepper

2 cups fresh broccoli florets

2 cups shredded Cheddar cheese
Recipe Directions
Melt the butter in your Larder & Vine Dutch Oven over medium heat, and mix in the flour. Reduce heat to low, and cook, stirring constantly for about 2 minutes. Mix in the chicken stock and milk, and season with salt and white pepper. Bring to a boil, then reduce heat to low, and simmer about 10 minutes.
In your Larder & Vine Saucepan, bring salted water to a boil. Place the broccoli in the boiling water, and cook 2 minutes, or until just tender. Remove from heat, drain, and set aside. 
Gradually add and mix cheese into your Dutch Oven until melted. Mix in the broccoli and continue cooking for about 5 minutes.
More Soup Recipe Ideas