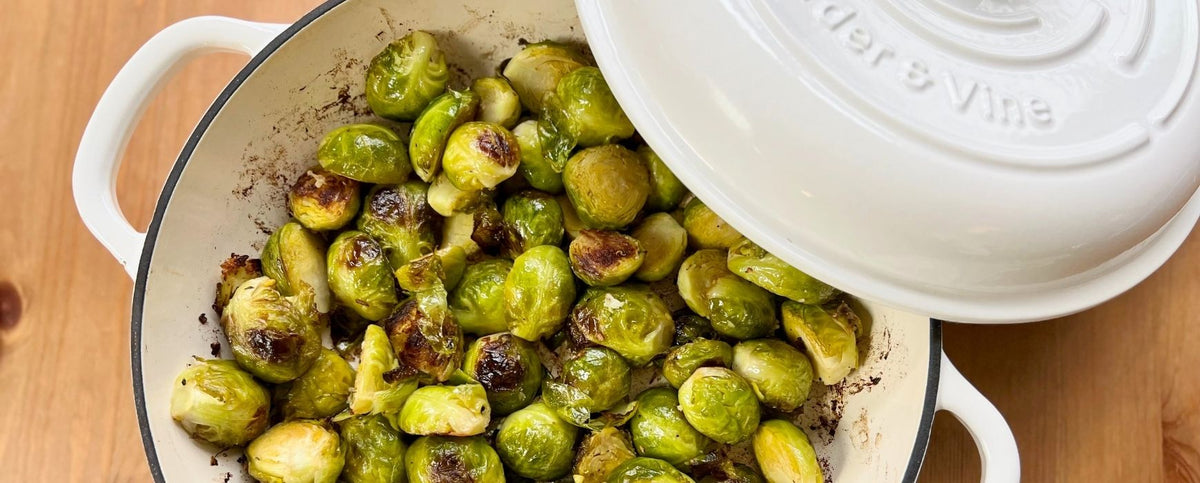 Garlic Butter Brussels Sprouts Recipe
Side dish recipes are designed to be simple and quick so that's how we make them here at Larder & Vine. Not only is this Garlic Butter Brussels Sprouts recipe easy, but the garlicky and buttery sauce will make anyone and everyone a fan of this otherwise controversial vegetable.  
Make every recipe taste even better by simply swapping out your old cookware for any piece from our Enameled Cast Iron Cookware Collection. You'll be able to see the quality once you get your hands on your own piece. Their heavyweight shows just how durable they are, plus their long-lasting lifespan. When taken care of properly, your cookware can last for generations. Now you, your kids, and your grandchildren will all be able to enjoy flavorful family recipes made in a family heirloom.
Recipe Ingredients
3 tablespoons butter, softened

4 cloves garlic, minced

1 teaspoon lemon juice
2 lbs Brussels sprouts

Salt and pepper to taste

Grated parmesan cheese, optional garnish
Recipe Directions
In a small bowl, mix together butter, garlic, and lemon juice together until well combined.
Slice the ends off the Brussels sprouts, then slice in half, lengthwise.
In a large bowl, toss the Brussels sprouts in the butter mixture. Place Brussels sprouts evenly inside your Larder & Vine Braiser.
Bake for 20 to 30 minutes, or until crisp. Garnish with grated parmesan cheese if desired and enjoy!
Find more recipe inspiration and shop our kitchen cookware essentials below.