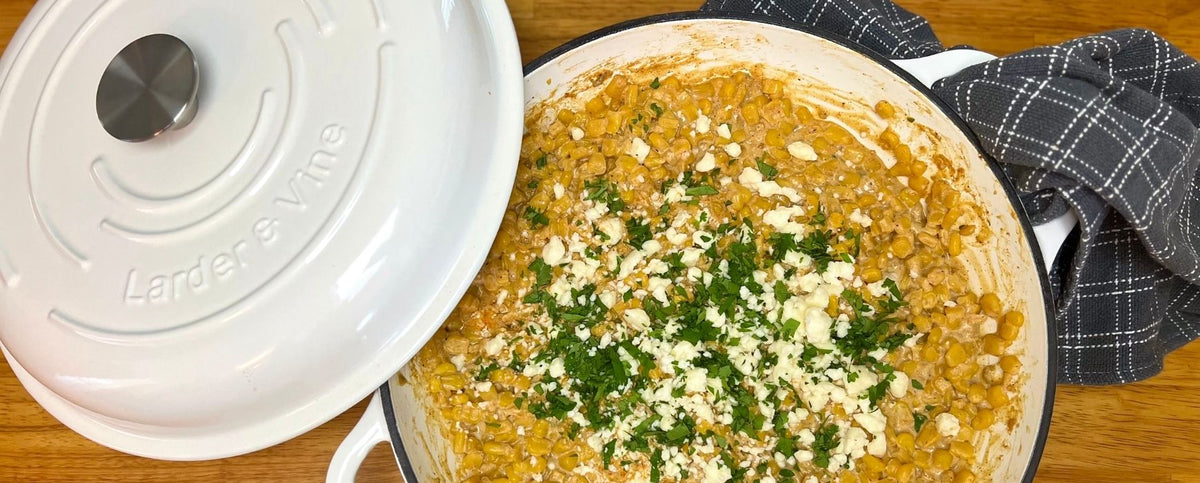 Mexican Street Corn Dip Recipe
Another easy dip recipe for all the amazing hosts out there! This Street Corn Dip recipe is perfect for football watch parties and cookouts. Just don't forget the chips and margaritas though!
The 3.9 Quart Enameled Cast Iron Braiser is your perfect cookware piece for dips of any kind. Even for more solid dips like cheeseballs so your can simply serve the chips and dip from the same platter.
Make every recipe taste even better by simply swapping out your old cookware for any piece from our Enameled Cast Iron Cookware Collection. You'll be able to see the quality once you get your hands on your own piece. Their heavyweight shows just how durable they are, plus their long-lasting lifespan. When taken care of properly, your cookware can last for generations. Now you, your kids, and your grandchildren will all be able to enjoy flavorful family recipes made in a family heirloom.
Recipe Ingredients
8 cups corn, drained

2 tablespoons olive oil

2 cloves garlic, minced

4 tablespoons mayonnaise

8 oz sour cream

2 limes, juiced

1 ½ teaspoons chili powder
1 teaspoon cumin

½ teaspoon black pepper

1 teaspoon salt

½ teaspoon cayenne

1 ½ cups crumbled queso fresco

⅓ cup chopped cilantro
Recipe Directions
In your Larder & Vine Braiser, heat olive oil over medium heat. Add corn and sauté until they start to brown. Add garlic and cook for about 1 minute or until fragrant.
In a mixing bowl, add mayonnaise, sour cream, lime juice, chili powder, cayenne, cumin, black pepper, and salt. Mix until well combined. 
Pour mixture into the skillet with the corn, then add the crumbled queso fresco and cilantro. Mix until well combined.
Serve with tortilla chips and enjoy!
Find more recipe inspiration and shop our kitchen cookware essentials below.