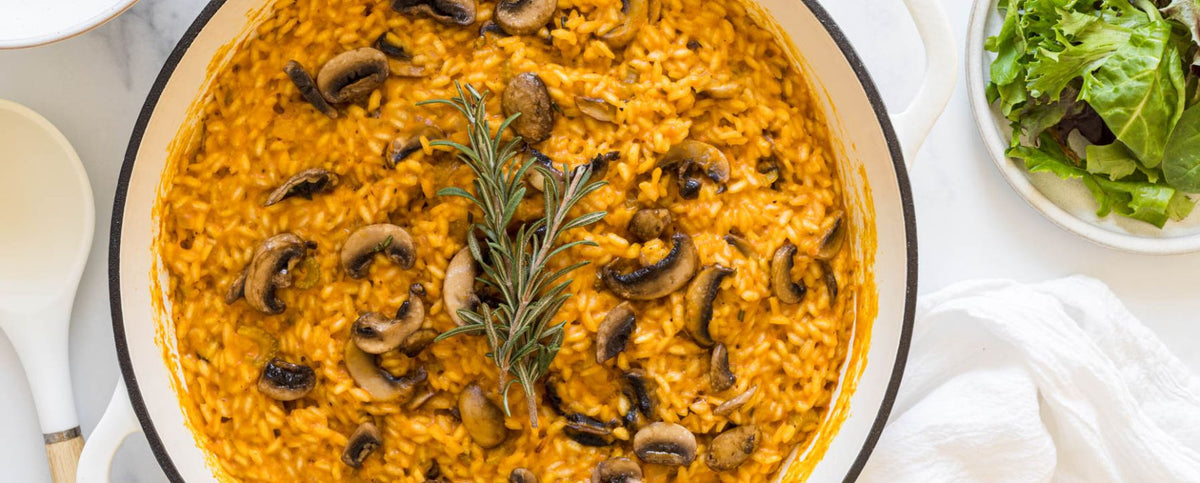 Pumpkin Mushroom Risotto Recipe
We partnered with the lovely Kaileigh of Super Mom Eats to showcase her flavorful Pumpkin Mushroom Risotto recipe. Learn how to make this simple (almost) one pot dinner recipe so you can impress your family with this dish all season long. You can easily convert this recipe into a kid-friendly dinner by omitting the mushrooms and call it "Halloween Risotto." What a great idea, Kaileigh!
Make every recipe taste even better by simply swapping out your old cookware for any piece from our Enameled Cast Iron Cookware Collection. You'll be able to see the quality once you get your hands on your own piece. Their heavyweight shows just how durable they are, plus their long-lasting lifespan. When taken care of properly, your cookware can last for generations. Now you, your kids, and your grandchildren will all be able to enjoy flavorful family recipes made in a family heirloom.
Words from Kaileigh
---
"Risotto is one of my all-time favorite dishes. It's comforting, delicious, and reminds me of my mom. My mom loves cooking risotto on special family occasions…and boy, do I like eating it! Growing up, I remember helping her make it ("Don't stop stirring, Kaileigh!")."
"As it's pumpkin season now, I thought it would be fun to try creating a Pumpkin Risotto. I also love adding mushrooms to this recipe! You can omit them if you prefer or choose another, easy-to-sauté, veggie such as zucchini or asparagus."
Find more of Kaileigh fun and tasty recipe ideas on her blog or by following her on Instagram.
Pumpkin Mushroom Risotto Recipe
Recipe Ingredients
3 tablespoons olive oil, divided

8 ounces white mushrooms, sliced

1 teaspoon dried rosemary

5 cups vegetable broth

¾ cup pumpkin puree

½ small onion, diced

4 celery sticks, diced
2 cloves garlic, minced

3 tablespoons butter

2 cups Arborio rice

1 cup dry white wine

1 teaspoon salt

Black pepper to taste

½ cup parmesan cheese, grated
Recipe Directions
Heat braiser over medium heat and add 2 tablespoons olive oil. Add mushrooms and rosemary and sauté, about 4 minutes. Scoop the mushrooms out of the braiser and set aside in a bowl.
In a saucepan, heat broth and pumpkin puree, stirring until well combined. Turn heat off.
While the broth is warming, heat the braiser over medium-low heat. Add remaining tablespoon of olive oil, then add onions and celery and sauté.
Once onion and celery are mostly cooked through, add garlic, butter, and Arborio rice. Toss to coat the rice in the olive oil and butter.
Add white wine, salt, and black pepper to the rice and stir to combine.
Add a ½ cup of the pumpkin broth to the rice, stirring constantly until the broth is absorbed. Repeat adding ½ cups of the broth at a time until rice is tender. This should take about 15-20 minutes. Turn heat off.
Add sautéed mushrooms and the parmesan to the rice and mix well. Serve immediately.
Find more recipe inspiration and shop our kitchen cookware essentials below.