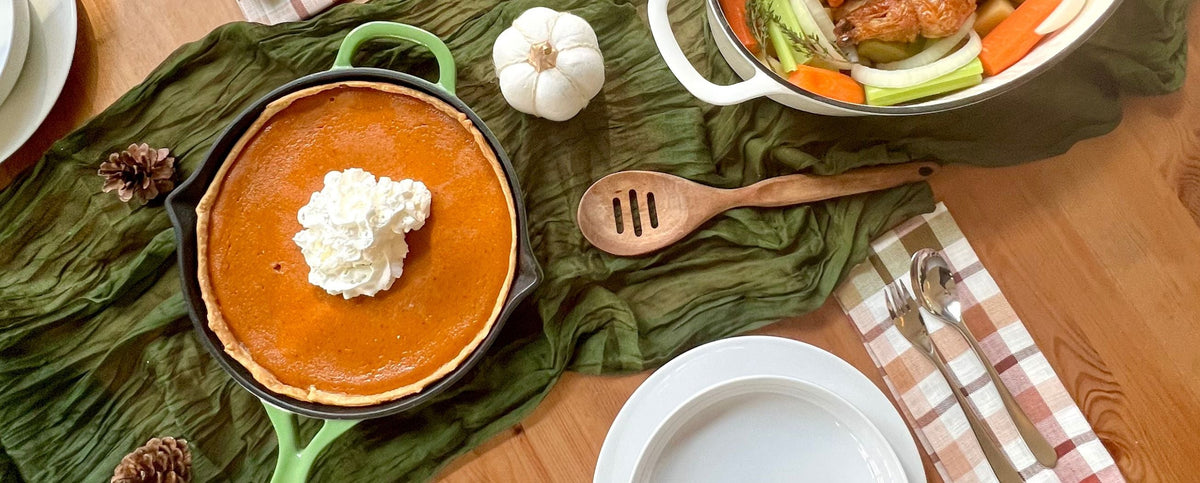 Pumpkin Pie Skillet Recipe
Seasonal desserts are a simple way to impress your guests without a bunch of fuss. This Pumpkin Pie Skillet recipe is very easy to prep so once it's in the oven, the hard part is done!
Our Skillet is the ideal candidate as it comes equipped with easy to grip & wide handles. Bake and serve in the same stunning cookware that doubles as an easy conversation stater.
Make every recipe taste even better by simply swapping out your old cookware for any piece from our Enameled Cast Iron Cookware Collection. You'll be able to see the quality once you get your hands on your own piece. Their heavyweight shows just how durable they are, plus their long-lasting lifespan. When taken care of properly, your cookware can last for generations. Now you, your kids, and your grandchildren will all be able to enjoy flavorful family recipes made in a family heirloom.
Recipe Ingredients
15 oz pumpkin puree

12 oz evaporated milk

10 inch pie crust

¾ cup granulated sugar
1 ¾ teaspoon pumpkin pie spice

½ teaspoon salt

2 eggs

Whipped cream
Recipe Directions
Preheat oven to 425° F.
In a large bowl, beat eggs, then stir in pumpkin puree, salt, and pumpkin pie spice. Once combined, slowly stir in evaporated milk.
Spread oil or butter evenly across the interior of your ovenproof Larder & Vine Skillet, then line it with the pie crust. Make sure to crimp the edges at the top, then pour in pumpkin pie mixture.
Bake at 425°F for 15 minutes then reduce temperature to 350°F and bake for about 40 to 50 minutes. Let cool completely then serve with whipped cream and enjoy!
Find more recipe inspiration and shop our kitchen cookware essentials below.