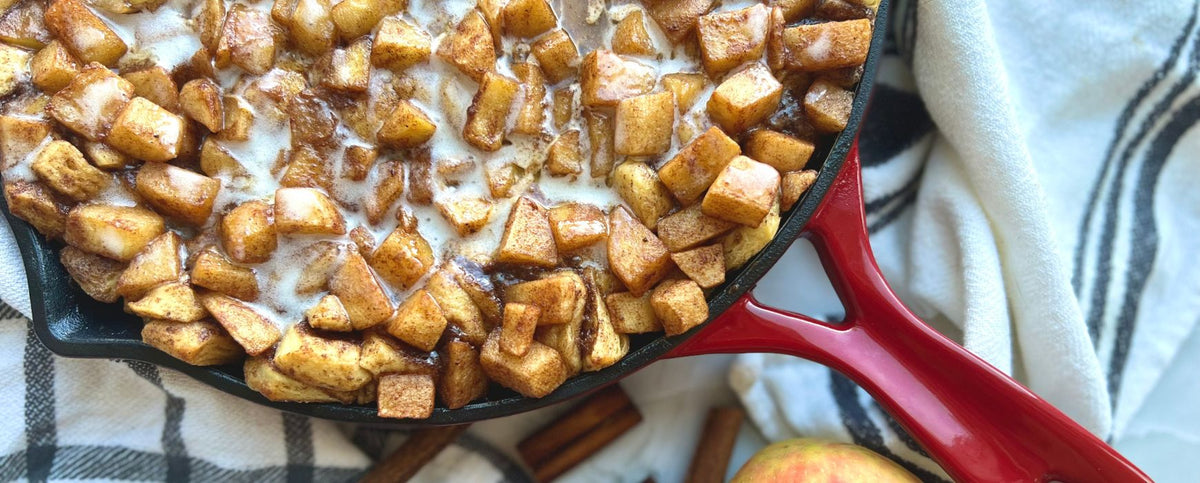 Apple Fritter Skillet Bake Recipe
Who can think of a better pairing than apples and cinnamon? This combination is the base to many Fall recipes from drinks to breakfast to dinner to dessert. You truly cannot escape this magical pairing all season long. 
We have concocted recipes such as the Apple Dutch Baby and Apple Butternut squash Soup, but today is all about this Apple Fritter Skillet Bake recipe! 
Make every recipe taste even better by simply swapping out your old cookware for any piece from our Enameled Cast Iron Cookware Collection. You'll be able to see the quality once you get your hands on your own piece. Their heavyweight shows just how durable they are, plus their long-lasting lifespan. When taken care of properly, your cookware can last for generations. Now you, your kids, and your grandchildren will all be able to enjoy flavorful family recipes made in a family heirloom.
Recipe Ingredients
2 cans cinnamon rolls

3 apples, peeled and chopped

10 tablespoons butter, divided and extra to grease

2 teaspoons apple pie spice
1 teaspoon ground cinnamon

⅓ cup brown sugar

Vanilla ice cream, to serve
Recipe Directions
In a medium saucepan, heat 2 tablespoons butter over medium heat then add the apples, apple pie spice, and cinnamon. Stir frequently until the apples are soft, about 10 minutes.
Coat an ovenproof skillet with butter. Open the 2 cans of cinnamon rolls and chop the rolls into pieces, then spread the pieces evenly in the skillet.
Once the apples are cooked, spread them evenly on top of the cinnamon roll pieces.
In a microwave safe bowl, add 8 tablespoons of butter and brown sugar. Microwave for about 20 to 30 seconds or until butter and sugar has melted. Mix and pour melted mixture over the rolls and apples in the skillet. Bake for about 25 to 28 minutes.
Drizzle the icing from the cinnamon rolls over top and serve immediately. Top with vanilla ice cream if desired!
Find more recipe inspiration and shop our kitchen cookware essentials below.