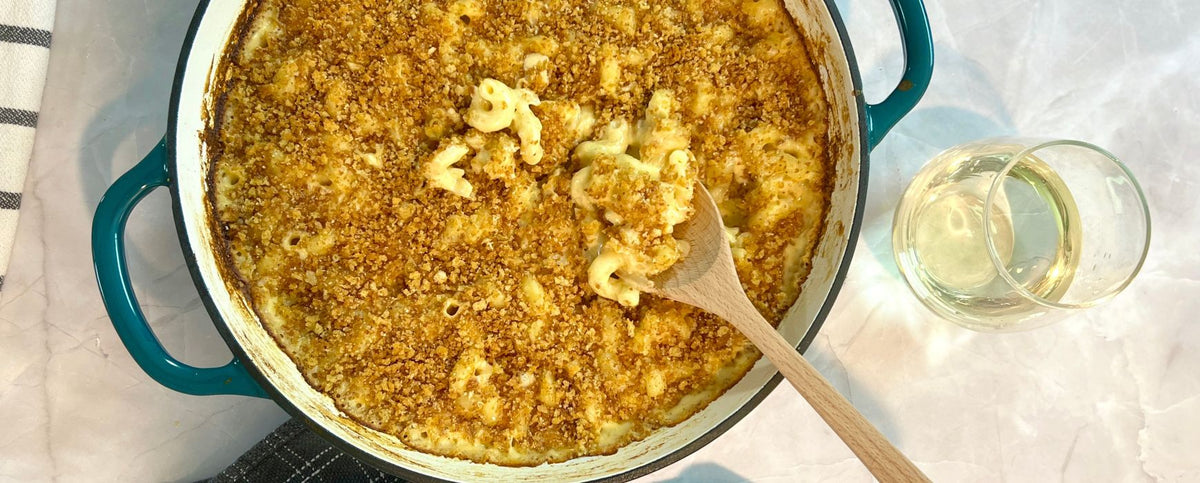 Baked Macaroni & Cheese Recipe
From stovetop to oven, this Baked Macaroni & Cheese recipe is sure to be a hit at any get-together. Grab your Larder & Vine Braiser or Skillet to easily take the flavor to the next level. 
Whether you're searching for a kid-approved recipe for dinner or a simple addition to your dinner party menu, this baked dish is easy as pie. Easily customize the seasonings to your liking by omitting the cayenne when cooking for kids, or adding extra spices for your next cookout. For a spicer recipe, we recommend adding red pepper flakes to your breadcrumb mixture!
Make every recipe taste even better by simply swapping out your old cookware for any piece from our Enameled Cast Iron Cookware Collection. You'll be able to see the quality once you get your hands on your own piece. Their heavyweight shows just how durable they are, plus their long-lasting lifespan. When taken care of properly, your cookware can last for generations. Now you, your kids, and your grandchildren will all be able to enjoy flavorful family recipes made in a family heirloom.
Pasta Ingredients
8 oz macaroni

1 teaspoon salt
Topping Ingredients
1 tablespoon unsalted butter

1 tablespoon olive oil

1 cup panko bread crumbs
¼ cup grated Parmesan cheese

Salt and freshly ground black pepper
Sauce
4 tablespoons unsalted butter

3 tablespoons all-purpose flour

2 cups whole milk

½ cup heavy cream

¼ teaspoon ground nutmeg
¼ teaspoon cayenne pepper

¼ cup grated Parmesan cheese

1 cup shredded extra-sharp cheddar cheese

1 cup shredded mild cheddar cheese

Salt and pepper
Recipe Directions
In your Larder & Vine Dutch Oven or Saucepan, bring salted water to a boil. Once it reaches a boil, add macaroni and cook until al dente. Drain pasta, rinse with cold water to stop the cooking process, and set aside.
Preheat the oven to 450ºF.
Heat the butter and olive oil in your Larder & Vine Braiser over medium heat. Add breadcrumbs and toast until golden brown. Once toasted, remove from heat and add to a mixing bowl. Mix in the parmesan and season with salt and pepper.
In the now empty Braiser, add butter and melt over low heat. Whisk in flour until smooth. Gradually whisk in milk and heavy cream until smooth.
Adjust the heat to bring the sauce to a simmer. Stir continuously for about 6 to 8 minutes, until the sauce has thickened.
Remove from heat and season with nutmeg, cayenne, salt, and pepper. Gradually add the cheese while mixing until all cheese has melted. 
Fold the pasta into the sauce until well combined. Scatter the breadcrumb mixture on top and bake for about 10 to 12 minutes or until the cheese is bubbly. Remove from oven, serve from Braiser, and enjoy!
Find more recipe inspiration and shop our kitchen cookware essentials below.