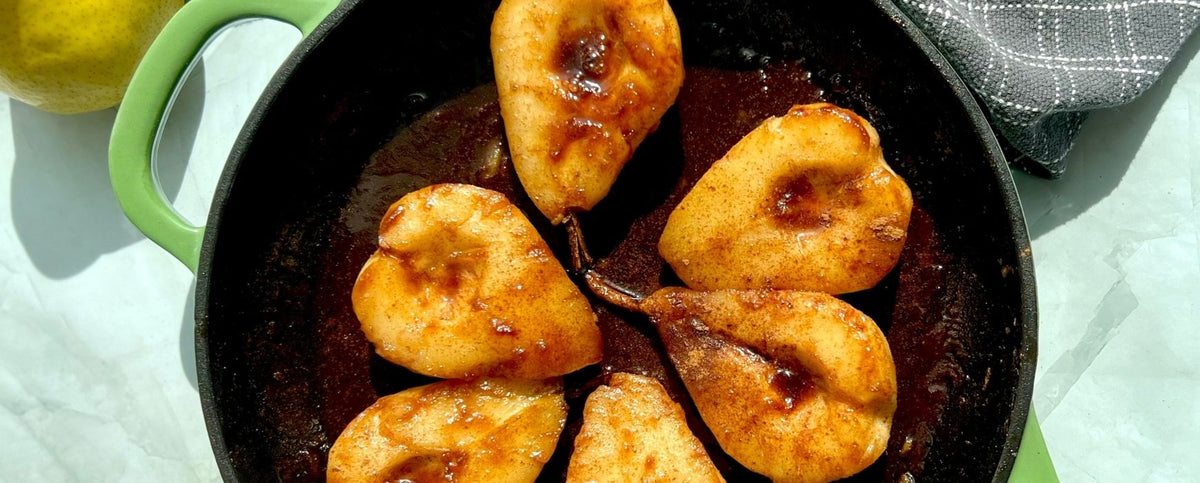 Caramelized Pears Dessert Recipe
Fall baking recipes don't always consist of apples and pumpkins like some may think. Our Caramelized Pears recipe is a testament to this as it's dripping in a cinnamon sugar sauce and topped with vanilla ice cream to counteract the warm, soft pears. 
Easily cater the serving size to fit the occasion for you. This recipe can be cut to be the perfect dessert idea for two. 
Make every recipe taste even better by simply swapping out your old cookware for any piece from our Enameled Cast Iron Cookware Collection. You'll be able to see the quality once you get your hands on your own piece. Their heavyweight shows just how durable they are, plus their long-lasting lifespan. When taken care of properly, your cookware can last for generations. Now you, your kids, and your grandchildren will all be able to enjoy flavorful family recipes made in a family heirloom.
Recipe Ingredients
3 Bartlett Pears

1 ½ teaspoons ground cinnamon

2 tablespoons unsalted butter
¼ cup brown sugar

1 teaspoon vanilla extract
Recipe Directions
Half the pears and remove the cores.
In a skillet, melt butter and brown sugar over medium heat. Add vanilla extract and ground cinnamon and stir until melted and smooth. 
Add pear halves and cook for about 2 minutes per side. Be sure to spoon the sauce over to pears to fully coat both sides. 
Remove from heat and let cool enough to serve with a scoop vanilla ice cream and enjoy!
Find more recipe inspiration and shop our kitchen cookware essentials below.