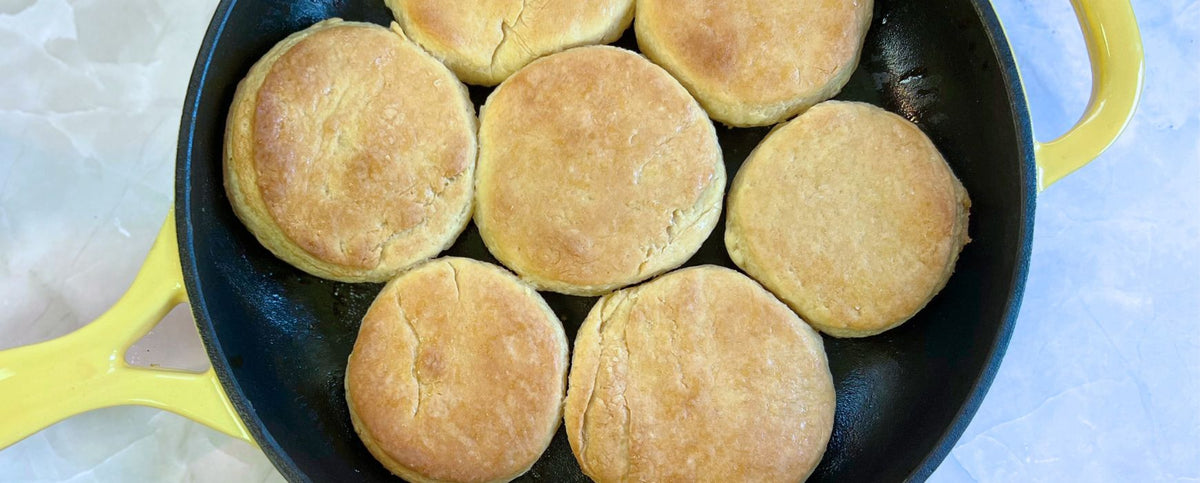 Homemade Buttermilk Biscuits Recipe
Breakfast always taste better when made right at home. Test out our theory with this Homemade Buttermilk Biscuits recipe. Hand rolled and kneaded for that extra touch of love and sweetness. Don't forget to add the real sweetness to the recipe by brushing each biscuits with your own warm honey butter,
Make every recipe taste even better by simply swapping out your old pan for our Enameled Cast Iron Skillet from our Enameled Cast Iron Cookware Collection. You'll be able to see the quality once you get your hands on your own piece. Their heavyweight shows just how durable they are, plus their long-lasting lifespan. When taken care of properly, your cookware can last for generations. Now you, your kids, and your grandchildren will all be able to enjoy flavorful family recipes made in a family heirloom.
Recipe Ingredients
2 ½ cups all-purpose flour

2 tablespoons baking powder

1 teaspoon salt
2 teaspoons honey

½ cup cold unsalted butter, cubed

9 ½ ounces cold buttermilk
Topping Ingredients
2 tablespoons honey
1 tablespoon butter
Recipe Directions
Preheat the oven to 425°F.
In a large mixing bowl, add flour, baking powder, and salt. Mix until well combined.
Add the butter to the bowl and work it into the dry ingredients until crumbs form. We recommend using a fork or your hands.
Once the crumbs have formed, make a well in the middle of the mixture and add the buttermilk and honey. Gently mix until a sticky dough forms. Be sure not to overwork the dough or it will crumble. We recommend using your hands or a silicone spatula.
Lightly flour your work surface and shape your dough into a rectangle. Fold in both sides, then turn 90º. Use a rolling pin to flatten the dough and repeat this process until the dough is smooth and about 1 inch thick.
Use a cookie cutter, mason jar, or any round item to cut dough into circles. If your cutter starts to stick to the dough, lightly flour the inside of your cutter.
Repeat step 5 to use all the dough and have enough biscuits to fill your Larder & Vine Skillet or Braiser
Butter your Larder & Vine Skillet or Braiser then place biscuits evenly inside.
Bake for 13 to 15 minutes.
In a small bowl, mix the honey and melted butter. Using a basting brush, spread the honey butter over the warm biscuits. Bake for 2 to 5 minutes or until golden brown.
Serve & enjoy!
Find more recipe inspiration and shop our kitchen cookware essentials below.