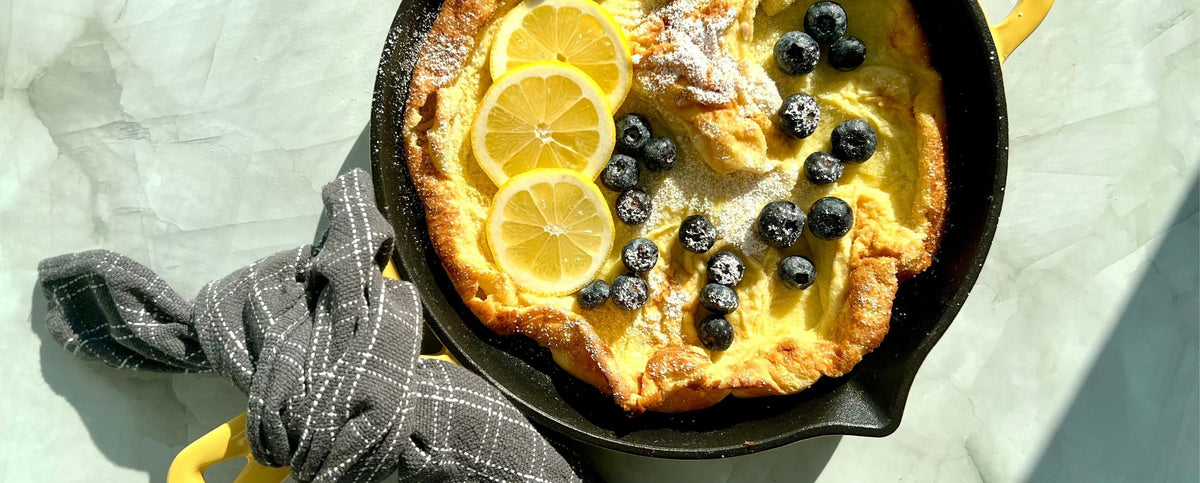 Forget the days of flipping pancakes and say hello to skillet-sized pancakes or as they're commonly known by: Dutch Baby. This sweet Lemon Dutch Baby recipe will be your newest breakfast craving as it may just be the easiest breakfast you could make! Blend, pour, bake and watch it puff in the oven. Top with your favorite fruit and syrups to truly make this recipe your own!
Make every recipe taste even better by simply swapping out your old cookware for any piece from our Enameled Cast Iron Cookware Collection. You'll be able to see the quality once you get your hands on your own piece. Their heavyweight shows just how durable they are, plus their long-lasting lifespan. When taken care of properly, your cookware can last for generations. Now you, your kids, and your grandchildren will all be able to enjoy flavorful family recipes made in a family heirloom.
Recipe Ingredients
3 tablespoons unsalted butter, divided

3 eggs

½ cup whole milk

½ cup all-purpose flour

2 teaspoons vanilla extract

1 tablespoon sugar
¼ teaspoon salt

1 lemon, zested

Lemon juice, optional garnish

Powdered sugar, optional garnish

Blueberries, optional garnish
Recipe Directions
Preheat your oven to 450º F. Place your Larder & Vine Skillet in the oven to heat it up while the oven warms.
Melt 2 tablespoons of butter in the microwave.
Add eggs, flour, lemon zest, milk, sugar, salt, vanilla, and the melted butter into a food processor and blend until smooth.
Take the skillet out of the oven and add 1 tablespoon of butter to the hot skillet to coat. 
Pour the batter into the skillet and bake for about 13 to 15 minutes, or until it's golden brown.
Squeeze fresh lemon juice on top and garnish with extra lemon zest, powdered sugar, and blueberries, or your favorite toppings combination!
Find more recipe inspiration and shop our kitchen cookware essentials below.