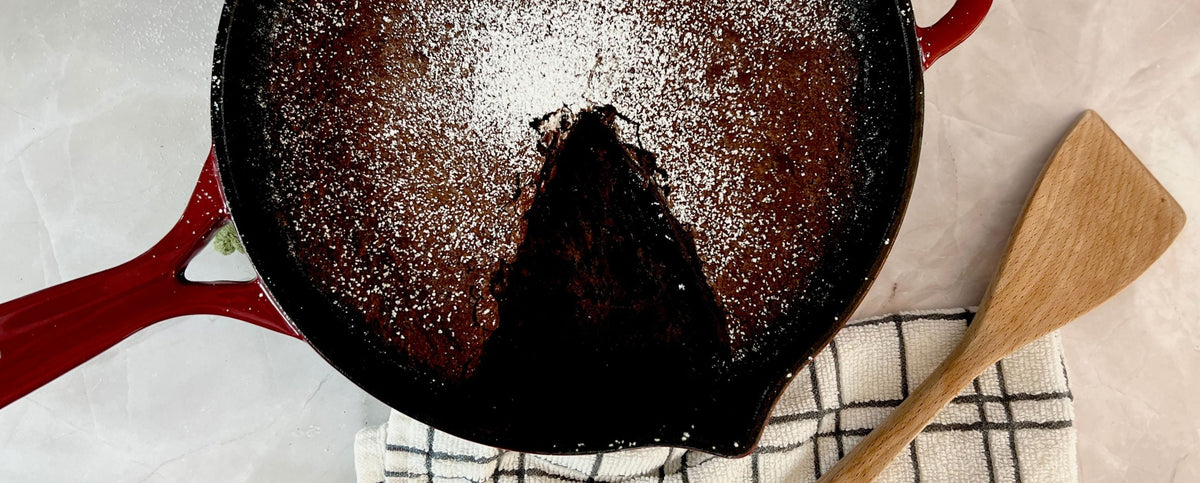 You may think there's no recipe out there easier than boxed brownies, but this Skillet Brownie Recipe is honestly just as easy, we promise! 
With only 6 pantry staples as ingredients, you can almost always give in to those chocolate cravings with this simple Skillet Brownie recipe. The prep is quick and easy so while your masterpiece is baking, you can get comfy, find the perfect movie to watch, and pour yourself a glass of wine. 
Make every recipe taste even better by simply swapping out your old cookware for any piece from our Enameled Cast Iron Cookware Collection. You'll be able to see the quality once you get your hands on your own piece. Their heavyweight shows just how durable they are, plus their long-lasting lifespan. When taken care of properly, your cookware can last for generations. Now you, your kids, and your grandchildren will all be able to enjoy flavorful family recipes made in a family heirloom.
Recipe Ingredients
6 tablespoons butter, melted

1 cup white sugar

6 tablespoons cocoa powder
1 ½ teaspoon vanilla extract

2 eggs, lightly beaten

4 tablespoons all-purpose flour
Recipe Directions
Add melted butter, sugar, and cocoa powder to a microwave-safe bowl. Mix until well combined, then heat in the microwave until the sugar has dissolved and the batter is smooth.
Into the same bowl or a large mixing bowl, add batter, vanilla extract, eggs, and flour. Mix until smooth and add to your greased skillet.
Bake for about 40 to 50 minutes. Use a toothpick to check when the brownie has finished cooking. If the toothpick comes out clean, the brownie is done. if the toothpick comes out with batter, continue cooking and repeat the toothpick test.
Once the brownie is ready, remove it from the oven & sprinkle with powdered sugar if desired. Slice into 6 triangles and enjoy. Elevate each slice with a scoop of vanilla ice cream!
Find more recipe inspiration and shop our kitchen cookware essentials below.