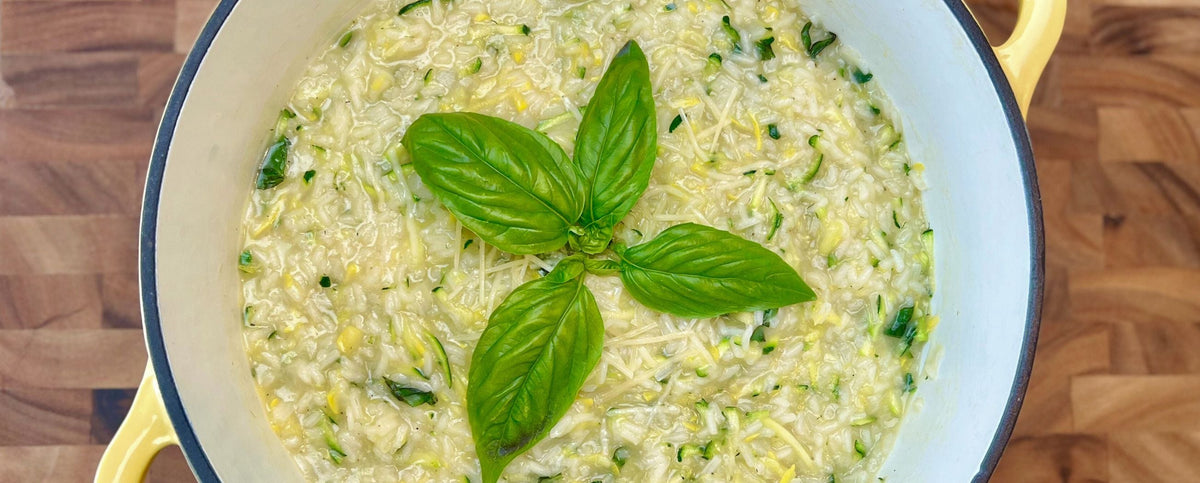 Summer Squash Risotto Recipe
No matter the time of year, this Summer Squash Risotto Recipe calls for a light and fresh dinner option. It may feel like quite the arm workout, but the flavor and creaminess this recipes provides is truly worth ever stir.
Make every recipe taste even better by simply swapping out your old cookware for any piece from our Enameled Cast Iron Cookware Collection. You'll be able to see the quality once you get your hands on your own piece. Their heavyweight shows just how durable they are, plus their long-lasting lifespan. When taken care of properly, your cookware can last for generations. Now you, your kids, and your grandchildren will all be able to enjoy flavorful family recipes made in a family heirloom.
Recipe Ingredients
2 quarts vegetable broth
¼ cup olive oil
1 onion, finely chopped
Salt and pepper to taste
2 cups rice
1 cup dry white wine
1 pound grated zucchini or summer squash, or mix of both.
¼ cup finely grated parmesan cheese
¼ cup thinly sliced fresh basil
Recipe Directions
In your Larder & Vine Saucepan, add broth and heat on low. Keep it at a low simmer and do not bring to a boil.
To your Larder & Vine Dutch Oven over medium heat, add oil. Once hot, add onion and a pinch of salt and pepper. Cook until onions are translucent.
Add rice and let it toast for about 1 to 2 minutes, stirring often. Add wine and stir often until all liquid has been absorbed.
Ladle once scoop of warm from from Saucepan to Dutch oven. Stir often until all liquid has been absorbed. Continue this process one ladle at a time. This should take about 20 to 30 minutes.
Towards the end of the cooking process, stir in the grated  zucchini and/or squash. When the rice is al dente, remove from heat and stir in the grated Parmesan and basil, then serve and enjoy!
Find more recipe inspiration and shop our kitchen cookware essentials below.