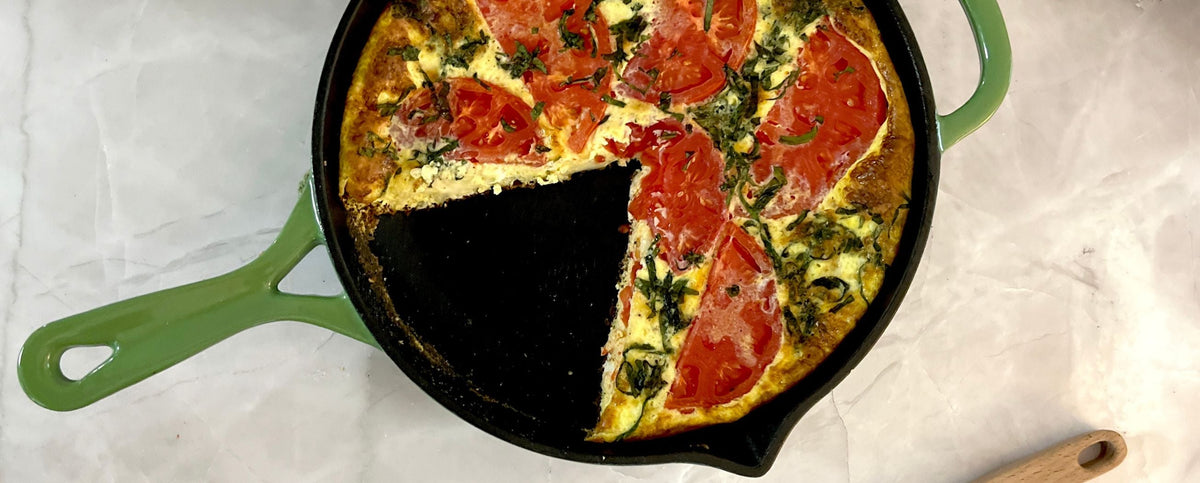 Tomato Basil Frittata Recipe
Keep the dishes to a minimum with this extremely easy Tomato Basil Frittata Recipe. You'll only need your Larder & Vine Skillet for this breakfast dish. Equipped with its long handle, our skillet makes it an easy transfer from stovetop to oven to table!
Make this recipe your own by swapping the tomatoes and basil for ingredients that are more your style, we won't be upset! 
Make every recipe taste even better by simply swapping out your old cookware for any piece from our Enameled Cast Iron Cookware Collection. You'll be able to see the quality once you get your hands on your own piece. Their heavyweight shows just how durable they are, plus their long-lasting lifespan. When taken care of properly, your cookware can last for generations. Now you, your kids, and your grandchildren will all be able to enjoy flavorful family recipes made in a family heirloom.
Recipe Ingredients
6 large eggs
¼ cup whole milk
1 tablespoon olive oil
2 large tomatoes, sliced
8 oz mozzarella, cubed
1 tablespoon sliced basil
Salt to taste
Pepper to taste
Recipe Directions
Preheat the broiler to 480ºF.
In a mixing bowl, add eggs, milk, salt, and pepper, then whisk until smooth.
Once the skillet is hot, add the egg mixture, then top with the tomatoes, mozzarella, and basil. Let cook and do not touch.
When the edges begin to brown, transfer to the oven and let broil until the top is fully cooked. Once fully cooked, remove from oven, let cool, then serve and enjoy!
More Breakfast Recipe Ideas