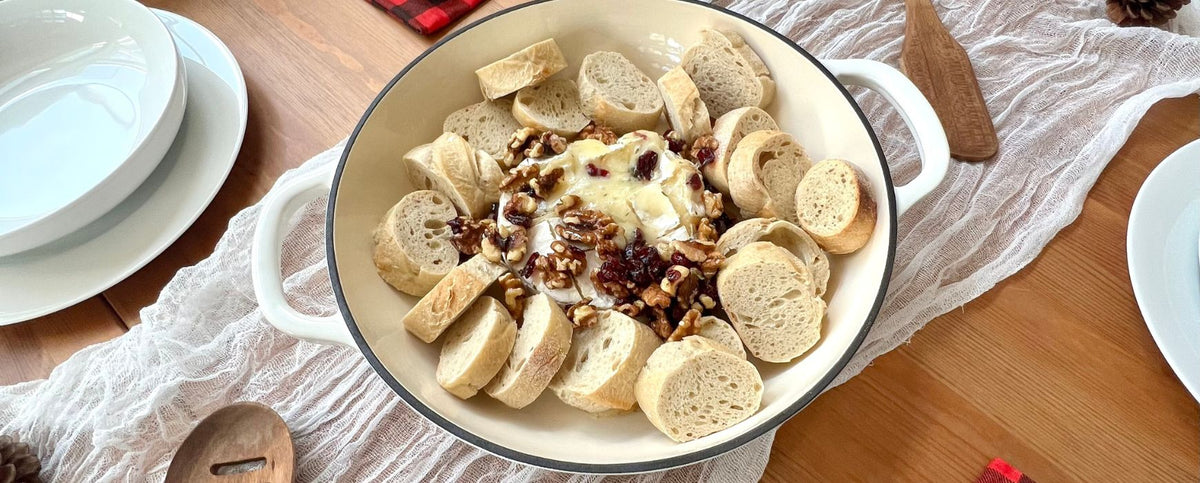 Honey Nut Baked Brie Recipe
Hosting any sort of occasion isn't complete without a baked Brie starter. This holiday season, try this Honey Nut Baked Brie recipe to wow your guests and have them beg you for the recipe! 
Make every recipe taste even better by simply swapping out your old cookware for any piece from our Enameled Cast Iron Cookware Collection. You'll be able to see the quality once you get your hands on your own piece. Their heavyweight shows just how durable they are, plus their long-lasting lifespan. When taken care of properly, your cookware can last for generations. Now you, your kids, and your grandchildren will all be able to enjoy flavorful family recipes made in a family heirloom.
Recipe Ingredients
1 Brie Wheel

¼ cup honey

½ cup toasted walnuts

½ teaspoon rosemary, chopped
3 tablespoons dried cranberries

Salt to taste

Bread or crackers for dipping
Recipe Directions
Preheat oven to 350°F. 
Place Brie in your Larder & Vine ovenproof Braiser or Skillet and score the top of the Brie. Bake for about 10 to 15 minutes or until softened.
In a medium bowl, combine honey, walnuts, rosemary and dried cranberries. Mix until well combined and heat in microwave if the honey is too thick.
Once the Brie is ready, sprinkle with a pinch of salt and layer the honey walnut mixture over the Brie. Serve immediately with bread or crackers and enjoy!
Find more recipe inspiration and shop our kitchen cookware essentials below.