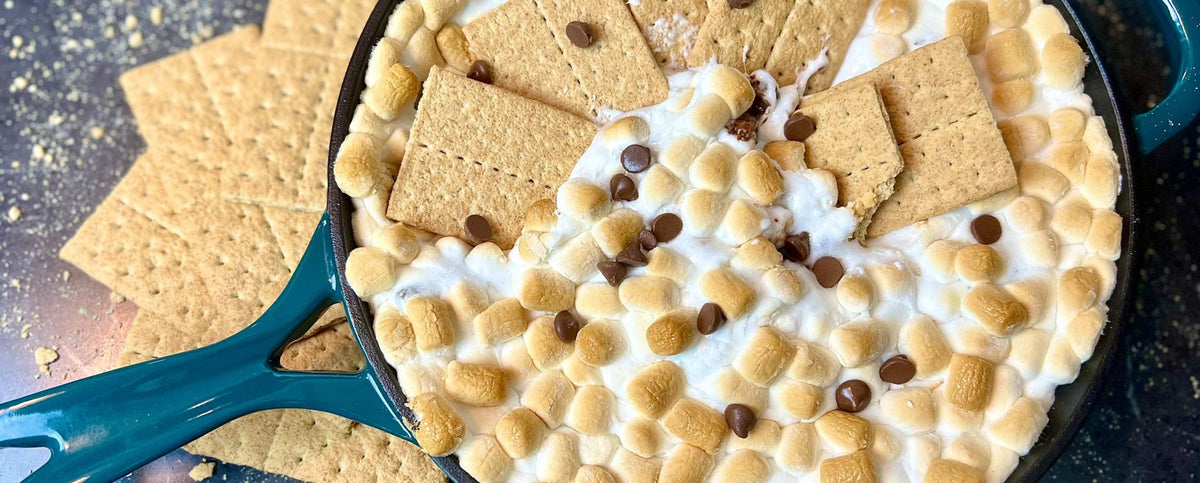 S'mores Skillet Dessert Recipe
Colder weather shouldn't keep you from enjoying those campfire treats we all love. Bring the fun inside and bake this S'mores Skillet recipe in the comfort of your warm kitchen. This deconstructed dessert is a crowd pleaser since everyone can enjoy this beloved snack without waiting their turn for the skewer.
Make this recipe taste even better by simply swapping out your old skillet for our Enameled Cast Iron Skillet from our Enameled Cast Iron Cookware Collection. You'll be able to see the quality once you get your hands on your own piece. Their heavyweight shows just how durable they are, plus their long-lasting lifespan. When taken care of properly, your cookware can last for generations. Now you, your kids, and your grandchildren will all be able to enjoy flavorful family recipes made in a family heirloom.
Recipe Ingredients
1 tablespoon salted butter

2 ½ cups milk chocolate chips
16 oz mini marshmallows

Graham crackers for serving
Recipe Directions
Preheat the oven to 350ºF.
Melt butter in an ovenproof skillet to coat the bottom and sides.
Pour in the chocolate chips, then add the marshmallows on top in an even layer.
Bake for 5 to 7 minutes, or until marshmallows are golden brown. Serve with graham crackers & enjoy!
Find more recipe inspiration and shop our kitchen cookware essentials below.