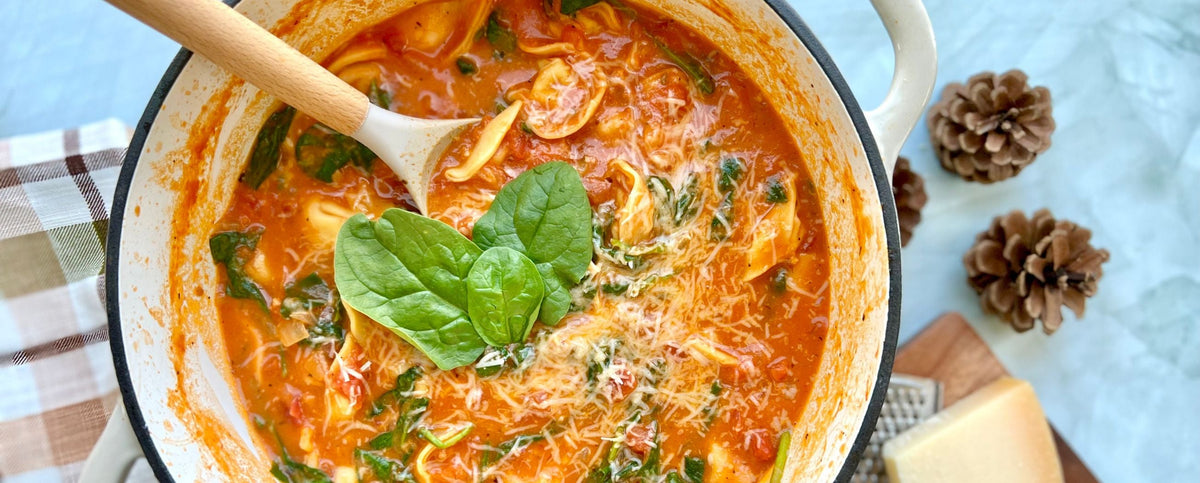 Tomato Tortellini Soup Recipe
You can't go wrong with a one pot meal full of tortellini. This Tomato Tortellini Soup recipe is not only cozy and tasty, but so very simple to make. It's a perfect weeknight dinner recipe and tastes just as good the next day for lunch at work.
Make every recipe taste even better by simply swapping out your old cookware for any piece from our Enameled Cast Iron Cookware Collection. You'll be able to see the quality once you get your hands on your own piece. Their heavyweight shows just how durable they are, plus their long-lasting lifespan. When taken care of properly, your cookware can last for generations. Now you, your kids, and your grandchildren will all be able to enjoy flavorful family recipes made in a family heirloom.
Recipe Ingredients
1 medium onion, diced

3 cloves garlic, minced

1 tablespoon olive oil

1 rosemary sprig, chopped

28 oz can diced tomatoes

15 oz tomato sauce

½ teaspoon oregano

4 basil leaves, sliced + extra for garnish
½ teaspoon salt

¼ teaspoon ground black pepper

4 cups chicken stock

½ cup heavy cream

20 oz tortellini

½ cup shredded parmesan cheese, extra for garnish

1 cup baby spinach
Recipe Directions
In your Larder & Vine Dutch Oven, heat oil over medium heat. Sauté onion, garlic, and rosemary until onions are translucent, about 5 minutes.
Add diced tomatoes, tomato sauce, oregano, salt, pepper, chicken stock, and heavy cream and stir to combine. Let simmer for about 20 minutes.
Add tortellini and cook for about 12 to 15 minutes or until the tortellini is tender and cooked through. Stir in the parmesan cheese and spinach.
Garnish with extra parmesan and enjoy!
Find more recipe inspiration and shop our kitchen cookware essentials below.