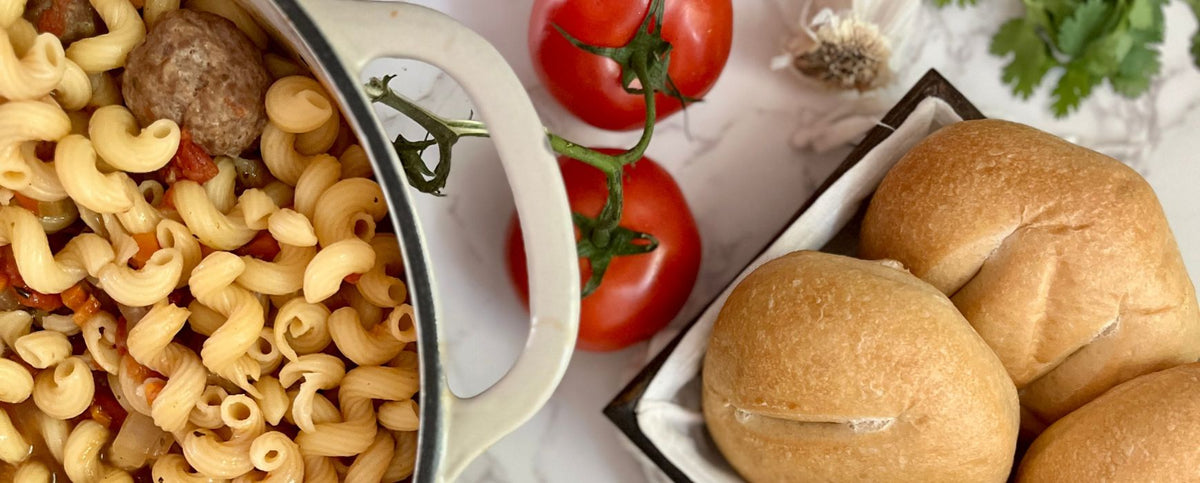 Meatball Cavatappi Soup Recipe
A hearty soup, such as this Meatball Cavatappi Soup recipe by Breanna (@kneadtherecipe), is a must for colder weather and cozy nights at home. Made in the Larder & Vine Dutch Oven, this recipe comes together in under an hour and is sure to be a hit at the dinner table. It's best served with homemade meatballs (see recipe below) and topped with ricotta cheese for a creamy addition.
You may be thinking this is too much work to make your own homemade meatballs, but theres always an easier option if your limited on time for dinner. Toss in a bag of frozen meatballs from the freezer and voila, you saved over 20 minutes!
Make every recipe taste even better by simply swapping out your old cookware for any piece from our Enameled Cast Iron Cookware Collection. You'll be able to see the quality once you get your hands on your own piece. Their heavyweight shows just how durable they are, plus their long-lasting lifespan. When taken care of properly, your cookware can last for generations. Now you, your kids, and your grandchildren will all be able to enjoy flavorful family recipes made in a family heirloom.
Meatball Ingredients
2 eggs

2 lbs ground beef

¼ cup parmesan cheese

½ cup breadcrumbs

Paprika to taste
Salt to taste

Pepper to taste

Onion powder to taste

2 cloves garlic, crushed

1 teaspoon olive oil
Soup Ingredients
¼ cup chopped onion

½ cup chopped carrots

¼ cup chopped celery

14.5 oz can of diced tomatoes

8 oz can of tomato sauce
48 oz beef broth

8 oz cavatappi 

¼ cup chopped parsley

Ricotta, optional for garnish
Recipe Directions
To make the meatballs, combine all the ingredients above and form into balls. You can make them mini or regular sized. Bake for 15 to 20 minutes at 400ºF. Set them aside as you prepare the soup.
Add olive oil to your Dutch oven and sauté your onions, carrots, and celery until soft. Add in the diced tomatoes and tomato sauce and stir until combined. Pour in the beef broth and seasonings next.
Add in your uncooked cavatappi noodles and then cover and let boil for 8-10 minutes or until pasta is al dente.
Add in the cooked meatballs and parsley and let simmer for a few minutes. Top with ricotta and serve with bread. Enjoy!