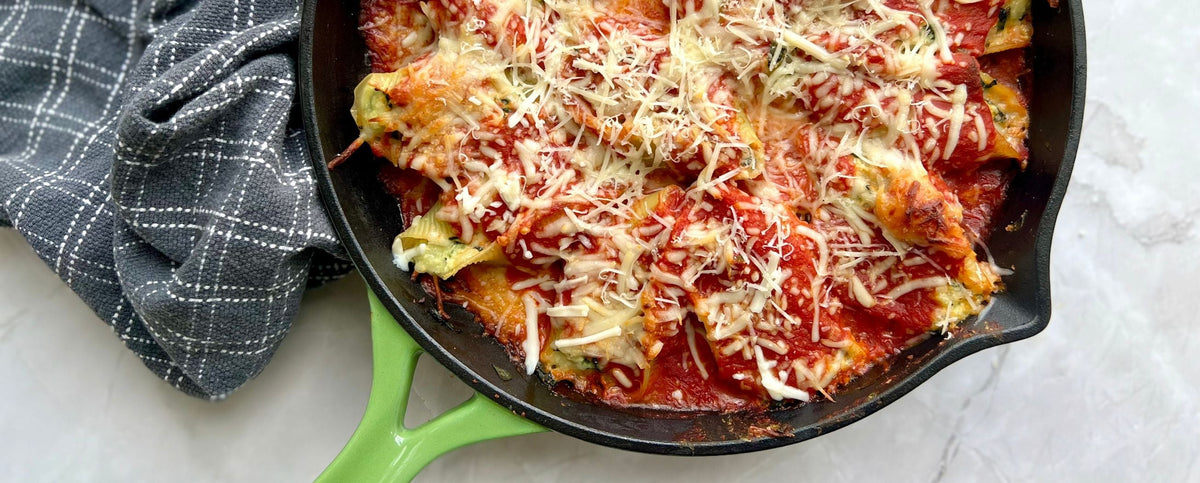 Spinach & Ricotta Stuffed Shells Recipe
Stuffed shells feels like that recipe you forget about all year round until winter comes around and suddenly you're craving it every week. We are here to remind you that you can enjoy this delicacy all year long! 
Stuffed to the max with mouth-watering cheeses and herbs, this Spinach & Ricotta Stuffed Shells recipe will have you hungry just by looking at it. Keep on reading to learn how to prepare this comfort meal right at home instead of driving to your local Olive Garden for your Italian cravings.
Make every recipe taste even better by simply swapping out your old cookware for any piece from our Enameled Cast Iron Cookware Collection. You'll be able to see the quality once you get your hands on your own piece. Their heavyweight shows just how durable they are, plus their long-lasting lifespan. When taken care of properly, your cookware can last for generations. Now you, your kids, and your grandchildren will all be able to enjoy flavorful family recipes made in a family heirloom.
Recipe Ingredients
20 large pasta shells

1½ cups tomato sauce

1 tablespoon olive oil

1 large onion, diced

10 ounces fresh spinach, chopped

10 ounces ricotta

1 cup shredded mozzarella cheese
½ cup grated parmesan cheese

1 egg

1 tablespoon lemon juice

1 tablespoon dried rosemary

Salt to taste

Pinch of nutmeg

2 cloves garlic, grated
Recipe Directions
Preheat oven to 400ºF.
Cook the pasta shells according to package directions. Drain and set aside.
In your Larder & Vine Skillet, heat oil over medium heat and sauté onion and garlic for about 10 minutes. Add chopped spinach and cook until wilted then remove from heat.
In a large mixing bowl, combine ricotta, mozzarella, parmesan cheese, egg, lemon juice, rosemary, nutmeg, ground black pepper, and spinach mixture. Set some of the parmesan and mozzarella aside to top the shells.
In an ovenproof skillet, add ½ cup of the tomato sauce and spread across the bottom.
Fill each shell with a spoonful of the mixture and place on top of the tomato sauce in the skillet. Continue filling shells until the skillet is full.
Add the remaining sauce and cheese to the top of the shells, then cover and bake for 30 minutes. Serve & enjoy!
Find more recipe inspiration and shop our kitchen cookware essentials below.