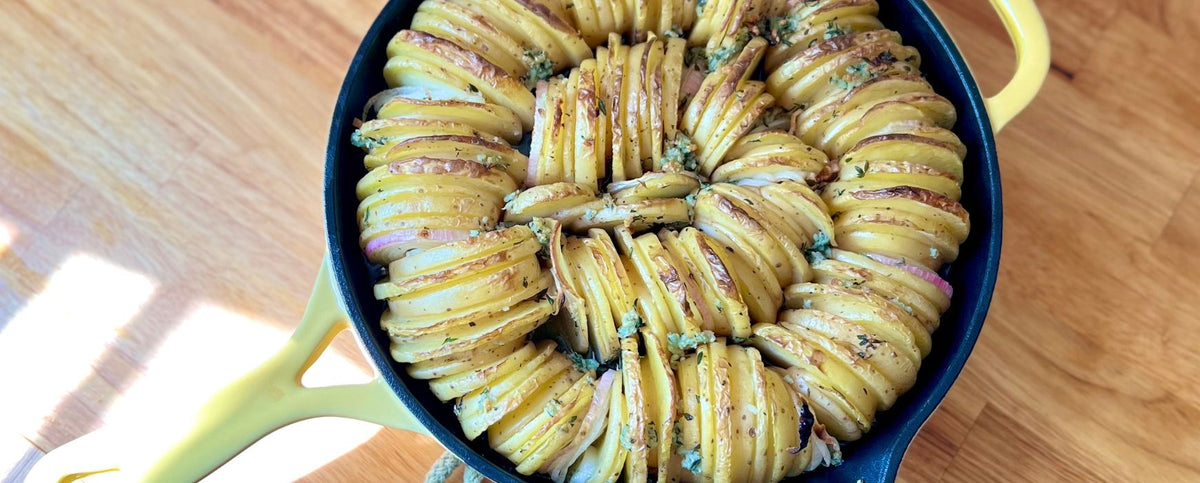 Hasselback Potato Skillet Recipe
Potatoes truly deserve all the love they are given. From mashed potatoes to fries to gnocchi and so much more, this versatile vegetable gives us so many recipes to choose from. Today, we decided this Hasselback Potatoes recipe was worth a mention. Crisp and buttery, we are sure the entire family will love this recipe.
Make every recipe taste even better by simply swapping out your old cookware for any piece from our Enameled Cast Iron Cookware Collection. You'll be able to see the quality once you get your hands on your own piece. Their heavyweight shows just how durable they are, plus their long-lasting lifespan. When taken care of properly, your cookware can last for generations. Now you, your kids, and your grandchildren will all be able to enjoy flavorful family recipes made in a family heirloom.
Recipe Ingredients
5 pounds Yukon gold potatoes, thinly sliced

6 tablespoons butter, melted

6 tablespoons olive oil

4 cloves garlic, minced
1 tablespoon chopped fresh thyme, extra for garnish

2½ teaspoons salt

1 teaspoon ground black pepper

2 shallots, thinly sliced
Recipe Directions
Preheat the oven to 400ºF.
In a large bowl, combine potatoes, melted butter, olive oil, garlic, thyme, salt, and pepper. Toss until well coated. Reserve the remaining butter mixture in a bowl.
In your Larder & Vine Skillet, arrange potato slices vertically, side by side, in a circular pattern. Arrange shallots between any of the potato slices, then cover with foil.
Bake for 1 hour, then uncover and brush potatoes with the remaining butter mixture. Bake until potatoes are tender and golden, about 30 minutes.
Garnish with thyme then serve & enjoy!
Find more recipe inspiration and shop our kitchen cookware essentials below.