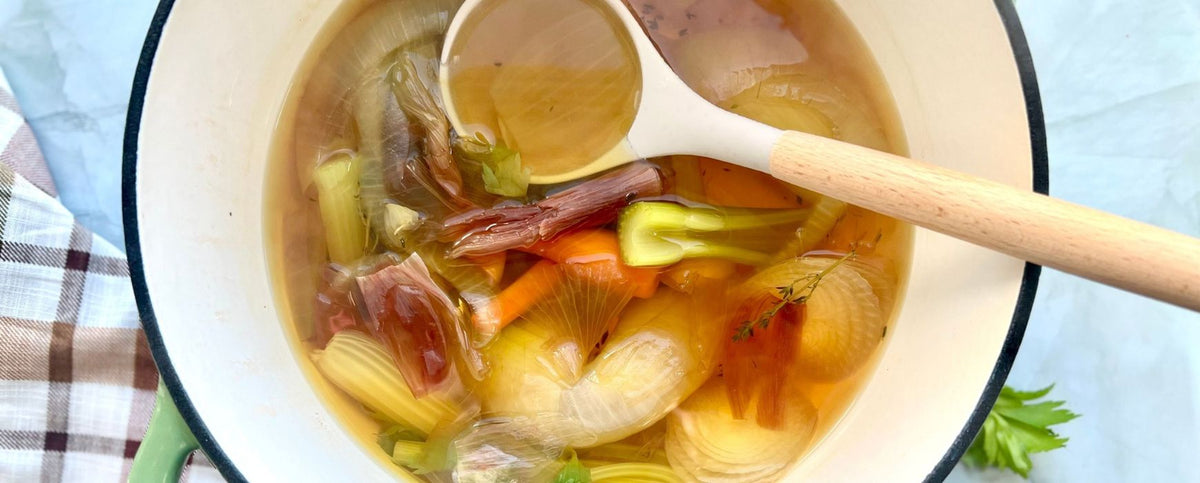 Homemade Vegetable Stock Recipe
Give your vegetable scraps a second purpose by turning them into a delicious homemade stock. Everyone says one mans trash is another mans treasure, but now your scraps can be your own treasure in just a few short steps. 
No more tossing the scraps in the trash. Simply store them in a freezer safe bag in your freezer until the bag is full. Once it's full, dump the scraps in your Dutch oven, add water, and in just about 1 hour you'll have delicious homemade vegetable stock. 
Keep reading to learn all the do's and don'ts of our Homemade Vegetable Stock Recipe.
Make every recipe taste even better by simply swapping out your old cookware for any piece from our Enameled Cast Iron Cookware Collection. You'll be able to see the quality once you get your hands on your own piece. Their heavyweight shows just how durable they are, plus their long-lasting lifespan. When taken care of properly, your cookware can last for generations. Now you, your kids, and your grandchildren will all be able to enjoy flavorful family recipes made in a family heirloom.
Recipe Ingredients
Optional ingredients but not limited to the following:
Garlic

Shallots

Thyme

Rosemary

Parsley

Bay Leaves
Celery

Onions

Carrots

Scallions

Leeks

Mushrooms
Recipe Directions
You can easily make your own vegetable stock with your leftover vegetable scraps. 
Fill up a freezer-safe bag with vegetable scraps and keep in the freezer until you have 2 cups worth. Once your bag is full and you're ready to make your stock, fill your Larder & Vine Dutch Oven with 8 cups of water, vegetable scraps, and any herbs or whole vegetables for extra flavor. Some good options are garlic, shallots, rosemary, thyme, parsley, bay leaves, and whole onions. Bring it to a boil, then let simmer for 40 minutes. Strain into a jar and refrigerate for up to 3 days or store in a freezer-safe bag until ready for use! 
We recommend using the scraps of onions, carrots, celery, mushrooms, shallots, and garlic as other veggies can add a bitter or spicy flavor. Refer to the ingredient list above for a full list of vegetables and herbs that are a good addition to a homemade stock recipe.
Key Points
Use 8 cups of water per 2 cups of scraps
Use stock within 3 days or freeze until ready to use
Refrain from using vegetables that will add a bitter or spicy taste
Add a mix of your favorite herbs or whole vegetables for extra flavor
Find more recipe inspiration and shop our kitchen cookware essentials below.