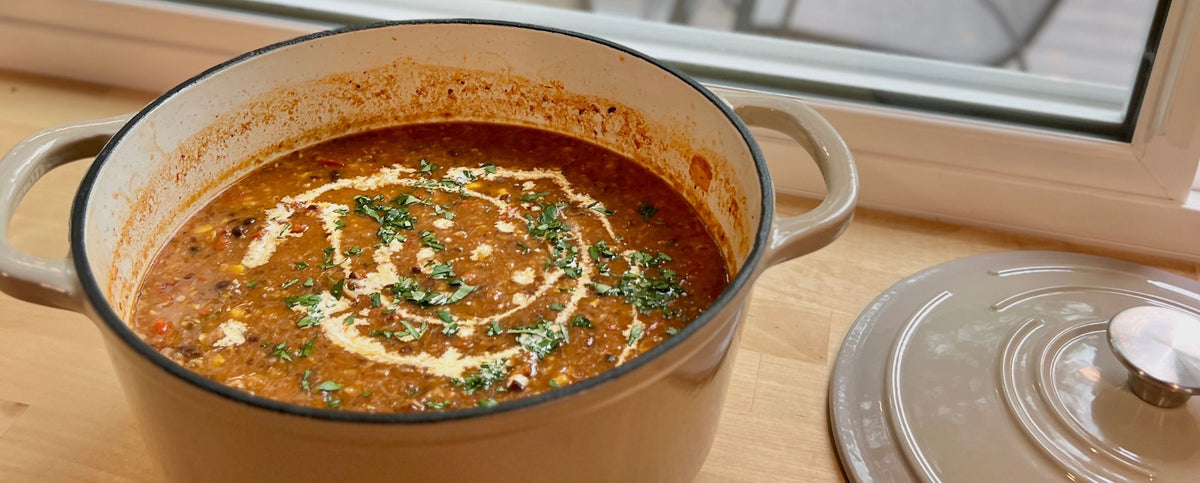 Vegetarian Black Bean Chili Recipe
Soup season includes chili and we don't who care doesn't agree! It's warm, cozy and perfect for a game day dinner recipe for everyone. Yes, we mean everyone because this is our Vegetarian Black Bean Chili recipe. Made with fresh vegetables and ready in under an hour, this is sure to be a hit in your home.
Make every recipe taste even better by simply swapping out your old cookware for any piece from our Enameled Cast Iron Cookware Collection. You'll be able to see the quality once you get your hands on your own piece. Their heavyweight shows just how durable they are, plus their long-lasting lifespan. When taken care of properly, your cookware can last for generations. Now you, your kids, and your grandchildren will all be able to enjoy flavorful family recipes made in a family heirloom.
Recipe Ingredients
1 tablespoon olive oil

1 large onion, chopped

2 red bell peppers, seeded and chopped

1 jalapeño, seeded and minced

10 baby bella mushroom, quartered

6 roma tomatoes, diced

1 cup corn kernels
1 teaspoon ground black pepper

1 teaspoon ground cumin

1 tablespoon chili powder

30 oz black beans, drained and rinsed (2-15oz cans)

1 ½  cups vegetable broth

1 teaspoon salt
Recipe Directions
Heat oil in your Larder & Vine Dutch oven over medium-high heat. Saute the onion, red bell peppers, jalapeño, mushrooms, tomatoes and corn for 10 minutes or until the onions are translucent. Season with black pepper, cumin, and chili powder. Stir in the black beans, chicken or vegetable broth, and salt. Bring to a boil.
Reduce heat to medium low. If you want a thicker texture, remove about 1 to 2 cups of the chili and add to a food processor or blender, puree and stir the bean mixture back into the soup, OR use an immersion blender to lightly pulse until it's to your desired consistency.
Served immediately over rice, mashed potatoes, or all by itself with a dollop of sour cream.
Find more recipe inspiration and shop our kitchen cookware essentials below.