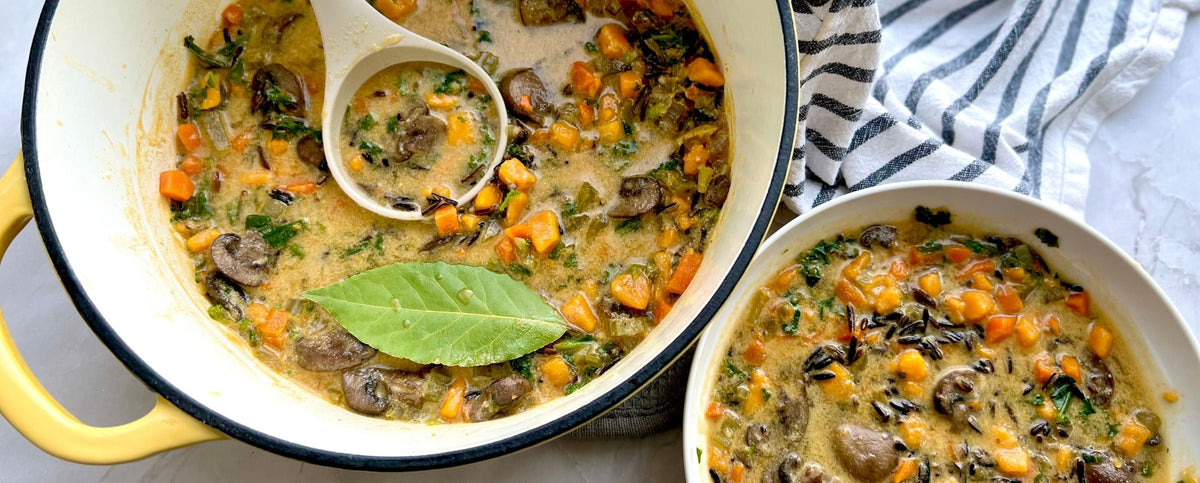 This Wild Rice Soup recipe is not only such a comforting dish, but it's also jam packed with nutrients. Although it's a true Autumn recipe, we believe this soup should be enjoyed all year round. 
Add this recipe to your "Soups to make" list, and yes we know you all have one!
Make every recipe taste even better by simply swapping out your old cookware for any piece from our Enameled Cast Iron Cookware Collection. You'll be able to see the quality once you get your hands on your own piece. Their heavyweight shows just how durable they are, plus their long-lasting lifespan. When taken care of properly, your cookware can last for generations. Now you, your kids, and your grandchildren will all be able to enjoy flavorful family recipes made in a family heirloom.
Recipe Ingredients
1 tablespoon olive oil

6 cups vegetable stock

1 cup uncooked wild rice

8 ounces baby bella mushrooms, sliced

4 cloves garlic, minced

2 medium carrots, diced

2 celery ribs, diced

1 large sweet potato, peeled and diced
1 small white onion, diced

1 bay leaf

1 teaspoon onion salt

1 teaspoon paprika

14 ounces unsweetened coconut milk

2 handfuls kale, remove stems and roughly chopped 

Salt and pepper to taste
Recipe Directions
In your Larder & Vine Dutch Oven, heat olive oil over medium-high heat. Add onion and sauté for 5 minutes, stirring occasionally, until soft and translucent. Stir in the garlic and cook for an additional 1 to 2 minutes, stirring occasionally, until fragrant.
Add vegetable stock, wild rice, mushrooms, carrots, celery, sweet potato, bay leaf, celery salt, and paprika. Stir to combine.
Bring to a simmer, then reduce heat to medium-low, cover and simmer for 30 to 40 minutes until the rice is tender, stirring occasionally.
Add coconut milk and kale and stir until combined. Season with salt and pepper as desired, then serve and enjoy!
Find more recipe inspiration and shop our kitchen cookware essentials below.